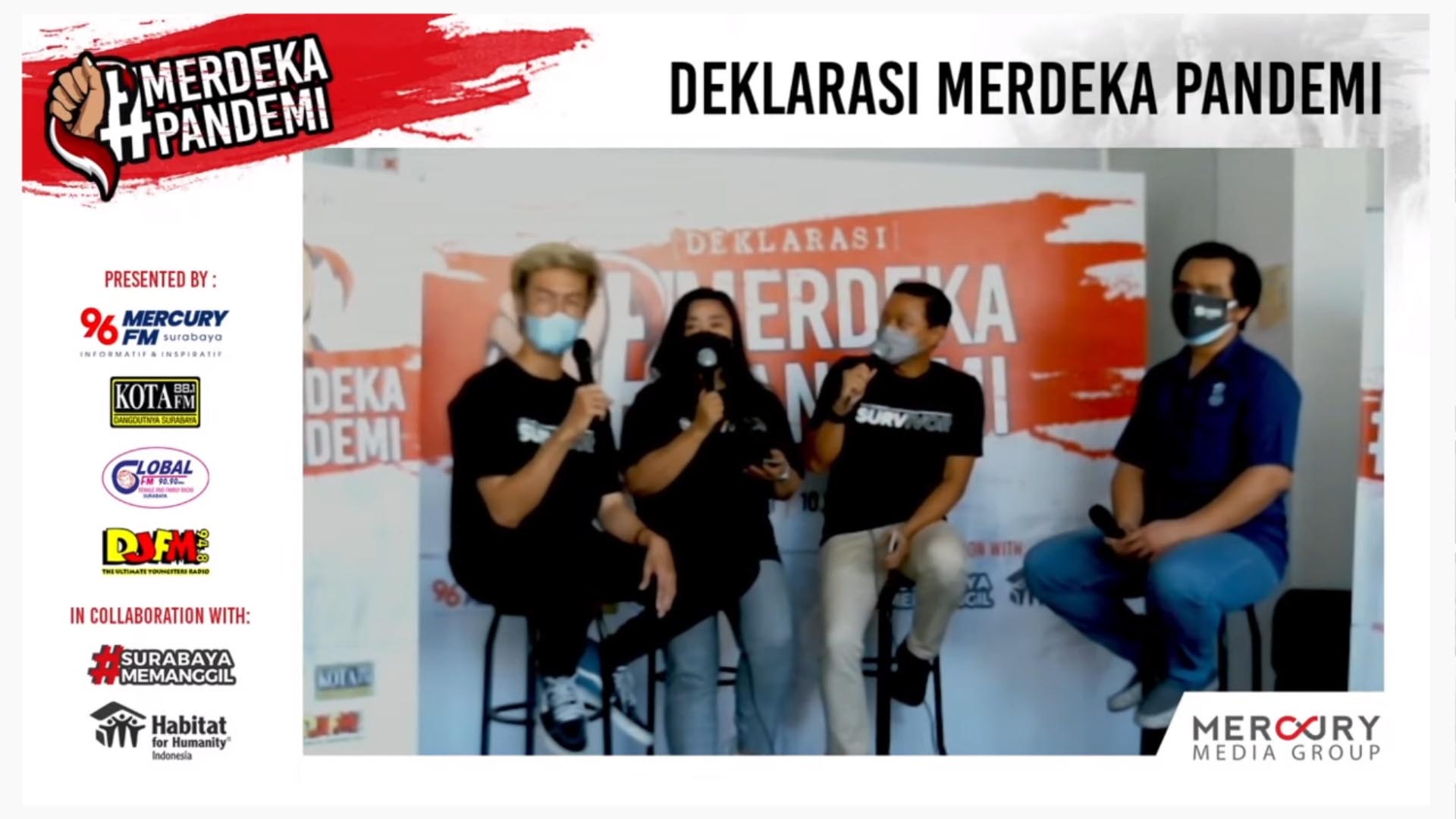 Jakarta, 27 Agustus 2021, Melonjaknya kasus Covid tahun 2021di Indonesia tidak meluputkan Surabaya sebagai salah satu daerah yang memiliki jumlah kasus tertinggi. Habitat Indonesia yang sebelumnya sudah membantu menyediakan tempat istirahat yang layak bagi 6 rumah sakit di Surabaya, kini kembali akan membantu menyediakan tempat istirahat yang layak bagi para tenaga kesehatan di 4 rumah sakit selama 60 hari. Selain tempat istirahat yang layak, asupan gizi di pagi maupun malam hari juga hendak diberikan.
Jakarta, August 27, 2021, The increasing number of Covid cases in Indonesia does not exclude Surabaya as one of the high numbers of cases areas. Habitat Indonesia, which previously had provided decent temporary shelters for six hospitals in Surabaya, will reopen the temporary shelter for health workers program in 4 hospitals for 60 days. The program includes an appropriate place to rest with meals for breakfast and dinner.
Mercury Media Group, sebagai salah satu media yang setiap harinya menyuarakan berbagai informasi positif di telinga para pendengarnya di Surabaya, memberikan dirinya turut mengambil bagian dalam menanggulangi masalah Covid di Indonesia, khususnya di Surabaya. Mengusung tema #MerdekaPandemi, Mercury bekerja sama dengan Habitat Indonesia melakukan penggalangan dana yang digaungkan lewat radio grup dan media sosial Mercury (Mercury FM, DJ FM, Kota FM, dan Global FM) dan media sosial Habitat Indonesia.
Mercury Media Group tends to emphasize positive information and message to the ears of its listeners in Surabaya by contributing to tackling the Covid problem in Indonesia, especially in Surabaya. In collaboration with Habitat for Humanity Indonesia, this effort carries the theme of #MerdekaPandemi to raise funds through Mercury's group radio and social media (Mercury FM, DJ FM, Kota FM, and Global FM) and Habitat Indonesia's social media.
Program penggalangan dana akan dilakukan selama 3 bulan dari Agustus hingga Oktober 2021 dengan target 2 M. Dana yang terkumpul nantinya akan dialokasikan untuk penyediaan tempat istirahat yang layak bagi para tenaga kesehatan yang bertugas di bangsal Covid rumah sakit di Surabaya.
This fundraising program will be held in 3 months, from August to October 2021, with a target of 2 billion rupiahs. They will allocate the funds raised to provide a proper place to rest for health workers who work in the Covid wards in the hospitals in Surabaya.
Penggalangan dana yang dilakukan oleh Mercury dan Habitat juga mendapat dukungan dari berbagai public figure baik dari Jakarta maupun Surabaya yang nantinya akan meramaikan gaung #MerdekaPandemi dalam adlips maupun talkshow. Masyarakat diajak mendukung penggalangan dana ini baik melalui transfer langsung atau melalui payment gateway lainnya agar tenaga kesehatan di Surabaya segera dibantu. Informasi lebih lanjut dapat mengunjungi Instagram @habitat_id dan @mercury96.
There are various public figures from Jakarta and Surabaya who also support this joint fundraising effort by Mercury and Habitat. They are willing to echo the message of #MerdekaPandemi through adlibs and talk shows on radios. People can donate through direct transfers or other payment gateways to support the health workers in Surabaya as soon as possible. For more information, you may visit Instagram @habitat_id and @mercury96.