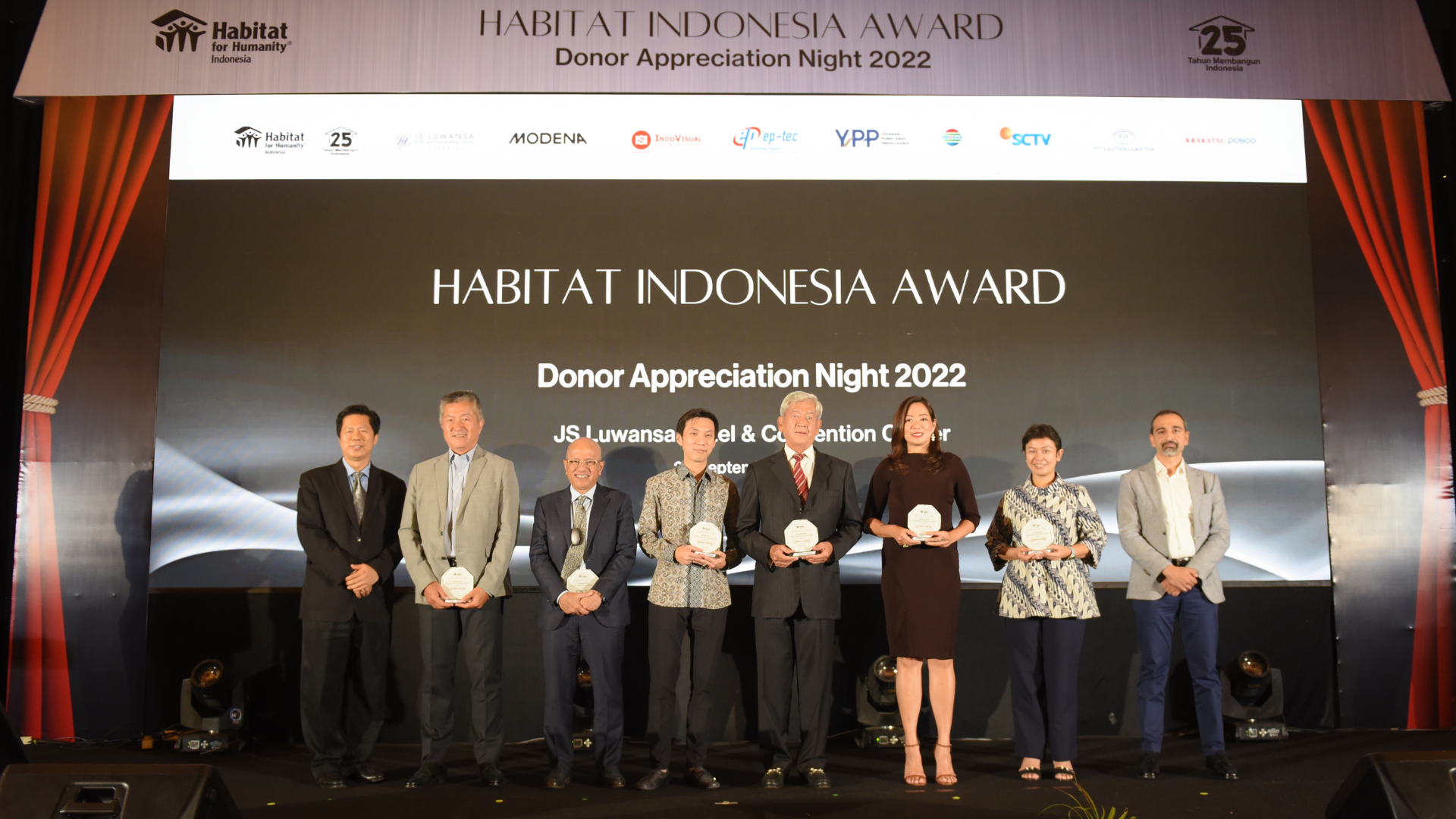 Donor Appreciation Night 2022
Pada 20 September 2022 Habitat Indonesia menyelenggarakan acara Donor Appreciation Night 2022, di ballroom JS Luwansa Hotel & Convention Center. Ini adalah momen spesial bagi Habitat Indonesia di usianya yang ke 25 tahun, menyampaikan apresiasi kepada para corporate donors, individual donors dan partners yang selama tiga tahun terakhir ini telah mendukung Habitat melayani masyarakat. Acara yang sama telah diselenggarakan pada tahun 2019 yang lalu, sebelum pandemi Covid-19.
Selain para penerima penghargaan, tamu undangan yang juga hadir pada malam itu selain dari Board of Trustee, Board of Supervisory dan Board of Advisory Habitat Indonesia, juga dihadiri oleh Mr. Shoban Rainford, Director of Resource Development Habitat for Humanity International yang berkesempatan menyampaikan Keynote Speech nya. Beberapa anggota dari Indonesia Development Council (IDC) yaitu Edwin Soeryadjaja, Jimmy Masrin, Kwik Wan Tien dan Hilmi Panigoro juga hadir pada malam itu.
Acara diawali dengan kata sambutan oleh Susanto, National Director Habitat Indonesia dan Rene Indiarto Widjaja, Chairman of Board of Trustees Habitat Indonesia. Tarian jaipong persembahan dari putra-putri warga Desa Margamulya, salah satu desa di Kabupaten Karawang yang menjadi cluster project dari Habitat Indonesia, serta Paduan Suara staff Habitat Indonesia, turut memeriahkan acara pada malam itu.
Ada 47 penghargaan yang disampaikan kepada para donor dan partner Habitat Indonesia, yang terbagi atas 10 kategori yaitu:
1. Media Award
2. Volunteer & Youth Award
3. Celebrity Award
4. Habitat Partner Award
5. Habitat Champion Award
6. Pandemic Response Award
7. Natural Disaster Response Award
8. Home Builder Award
9. Community Builder Award
10. Nation Builder Award
Presentasi yang mengangkat topik Climate Smart Housing Concept yang disampaikan oleh Pak Susanto, selain menyampaikan langkah Habitat dalam menanggapi kondisi dunia yang sedang menghadapi perubahan iklim, sekaligus mengajak hadirin untuk mendukung penyediaan rumah bagi warga pra sejahtera yang dibangun dengan cara-cara yang cerdas dalam menjaga keberlangsungan bumi kita.
Di akhir acara Susanto menyampaikan terima kasih kepada para penerima penghargaan, tamu undangan dan para sponsor yang telah mendukung penyelenggaraan Donor Appreciation Night 2022 itu. Beliau juga mengajak para hadirin melanjutkan dukungannya kepada Habitat Indonesia untuk bersama-sama membangun Indonesia.