"Thank God, Habitat came to our house to build us a toilet. I am very grateful to be able to get the assistance. Especially since I still have a toddler, often it's a hassle if I wanted to go to the toilet, I had to use the one in my parents-in-law's house." – Nia, Jaenuddin's Wife.
Jaenuddin, Nia, and their toddler are part of a little family who lives in Kedung Dalem Village, Mauk District, Tangerang Subdistrict, Banten Province. It was unthinkable how they lived in a house where the absence of a decent toilet was an urgent concern. As a laundry keeper, Nia and her husband found it difficult to build a toilet for their house since they only make enough income to fulfill their daily needs. Unpreventably, Jaenuddin and Nia had to use their parent's bathroom.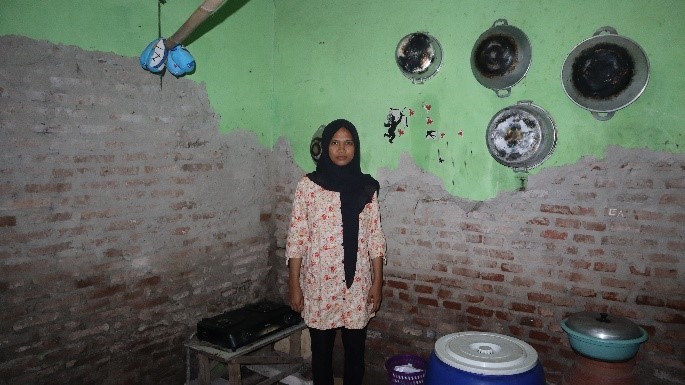 A condition where the lack of decent toilets or water access affects families like Jaenuddin's is one of the leading concerns that Habitat aims to solve. Collaborating with other parties who shared the same vision, Habitat welcomed the support of PT Omega Hotel Management (OHM) on a joint program to provide a decent toilet for Jaenuddin and his family.
Celebrating its 9th birthday, OHM, a hotel operator under the auspices of the Alfaland Group, organized a Corporate Social Responsibility (CSR) program with Habitat for Humanity Indonesia to build nine toilets for nine low-income families in Kedung Dalem Village, Mauk, Tangerang. One of them was Jaenuddin's family.
"I want to thank Habitat and OHM who have provided us with toilet assistance", said Nia gratefully.
By providing the toilet for Jaenuddin and the other eight families in Kedung Dalem Village, Habitat hopes that this program can improve the welfare and health of the community.