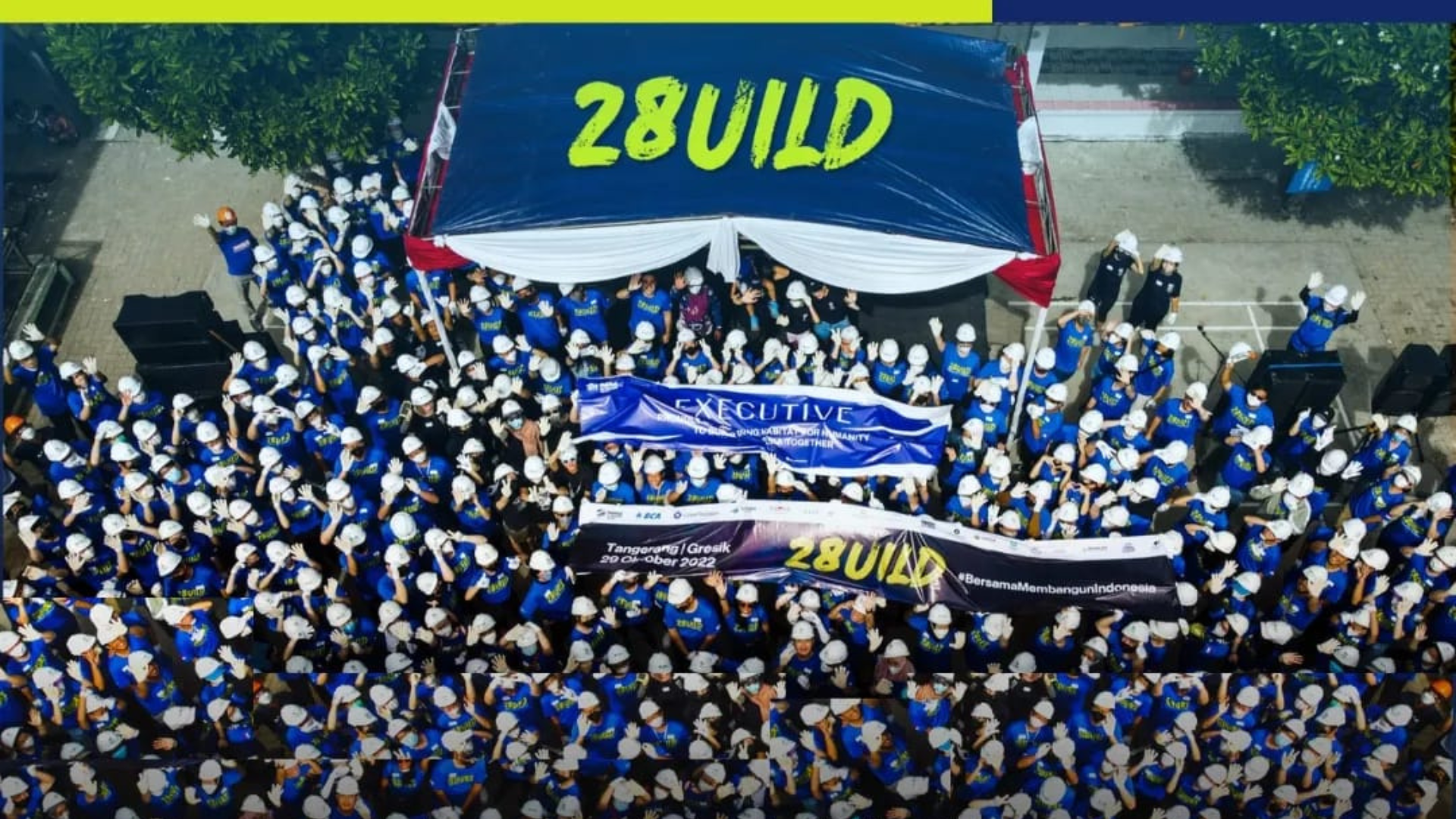 Commemorating Youth Pledge Day, which falls on October 28, 2022, Habitat for Humanity Indonesia held a 28uild event, inviting young volunteers to build and paint dozens of houses and schools in Kedung Dalem Village, Mauk, Tangerang on Saturday (29/10).
Habitat held this 28uild by inviting around 300 young volunteers from various backgrounds, consisting of students, university students, workers, and public figures.
28uild is an annual event carried out by Habitat since 2012. Although it was canceled during the pandemic (2020-2021), this year, the event is back again so that the younger generation feels empathy for vulnerable communities.
Through this event, Habitat hopes to increase the younger generation's awareness about the importance of a decent and healthy place to live to achieve a prosperous life for low-income people.
"Through this activity, we want young people to be involved starting from building houses. We know that there are still millions of families in Indonesia who are suffering and struggling with living in houses that do not deserve to be called a decent place to live," said National Director of Habitat for Humanity Indonesia, Susanto, when met by Hypeabis.id, Saturday (29/10) at the location.
Meanwhile, a young volunteer who is also a public figure, Daniel Mananta. He joined the program because he felt touched when he saw that the mentality of children with decent housing differed from those who did not. Moreover, sanitation is also a crucial issue that affects public health.
Daniel, who was born in Jakarta, said he had participated in the Habitat program since 2017. Daniel also hopes that this activity will make the future of the younger generation in Indonesia better because it is supported by comfortable and safe housing.
"I want to improve the quality of human kind through the provision of decent housing. The hope is that when they go to school, they can proudly say that their homes are now safe, comfortable, and able to support their lives in the future," said Daniel.
Separately, Tanisha, Chair of the Student Council from a private international high school in West Jakarta, said she was happy to be able to take part in the 28uild program. He seemed excited with his peers when he painted the school building at SDN Kedung Dalem in Mauk, Tangerang.
"Actually, a lot of people wanted to join. So at that time, we opened registration, but the time and quota were limited. So only people who registered at that time could join. Those [who didn't participate] also regretted not being able to join this event," said Tanisha.
Community Appreciation
Meanwhile, the Head of Kedung Dalem Village, Suryadi, expressed his appreciation and gratitude to Habitat for building their village for more than eight or nine years. He revealed that the non-profit organization had built 230 decent houses and about 700 sanitation in the sub-district where he lives.
Not only houses and sanitation, but they have also built various facilities, such as a computer laboratory and a reading park up to the RT level. We hope that it will be able to support the education of children in the village. So that in the future, they can become a better generation.
"Habitat is truly the partner of government to build our village. Today, our residents are more pede (confident) because they used to be embarrassed, when still practicing open defecation. Now it's no longer such a case," said Suryadi.
Meanwhile, Asiyah, one of the residents of Kedung Dalem Village whose house is being built, hopes that her house will someday become a decent house to live with the assistance of Habitat for Humanity Indonesia through the 28uild program.
"My house was made of bamboo. Sometimes snakes came inside. I'm pleased, thank God, someone is helping," said Asiyah, a mother of 2 children and the wife of a daily worker.
Habitat for Humanity claims, to date, through the 28uild program, they have managed to recruit more than 2,900 volunteers from several cities, such as Jakarta, Batam, Yogyakarta, and Surabaya. This year's event, the young volunteers also succeeded in building 15 houses, painting 32 homes, two elementary schools, and 1 PAUD in Tangerang, Banten, and Gresik, East Java.
(Telah Tayang 29 October 2022 I Hypeabis.id)