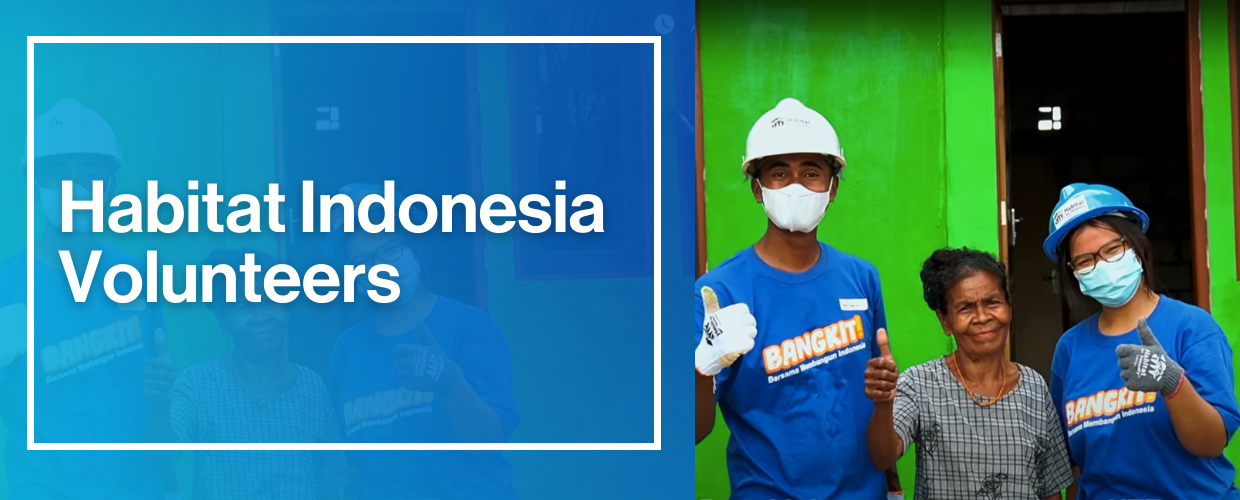 Annual Build
Annual Build is a yearly event held by Habitat for Humanity Indonesia, such as Women Build, 28uild, and so on. Habitat Indonesia gives a chance for volunteers to gain experience by directly meeting and doing real work for the beneficiaries so that they can also feel the spirit, happiness and good impact in building home. By seeing, you believe. This experience is hope to be shared with other young people so that more and more young people are aware of the existing social issues.
Regular Build
Regular Build is an event held by Habitat for Humanity Indonesia on a regular basis, the categories are as follows:
Birthday Build
There are many ways to show gratitude for the joy of a new age. One way is to share happiness with families in need.
Like what Jacquileen did, one of the young people who cares and commits to celebrate her happiness by making Mrs. Juminten's family happy.
Juminten's mother lives with her two children in a very inadequate house. Walls made of bamboo, with no bedroom, no proper toilet and ground floor. This condition made Mrs. Juminten very worry because she could not provide a proper place to live for her children. For her to have a decent house was just a dream considering that she was doing odd jobs, did not have a steady income and in fact, they were often helped by neighbors and friends to eat.
Fortunately, the dream of owning a decent home came true when Jacquileen committed to saving money for Habitat so she can help Juminten have a decent place to live.
Through the birthday build event, happiness is not only part of Mrs. Juminten but also Jacquileen's especially when she can see the real impact on Juminten's family. This is indeed the happiest birthday celebration.
We can choose to celebrate birthdays in luxury hotel with friends and family, but the event is only temporary. However, the event that Jacquileen organized gives an impact for life, Juminten's family now has a better quality of life.
Hopefully, more and more young people will want to do the same thing so that more families can feel extraordinary happiness.
Habitat Young Star
Hydrodozer for clean water
Early in 2022, Austin Ho and Noah Simanjuntak, then juniors at the Jakarta Intercultural School, began collaborating with Habitat for Humanity on a joint venture, sponsored by Amazon Web Services, which aims to bring clean water to low-income families for the next few years. Within two months, the project successfully installed and maintained low-cost water purification systems in two communities in Karawang, a small town two hours from Jakarta.
70% of drinking water sources in Indonesia are contaminated with bacteria, but obtaining clean water for daily use can cost 10% of the villagers' limited monthly income. In harsh environments with unstable electricity, many choose to drink straight from rivers and wells, where even though the water is clear, hundreds of coliform colonies per liter can grow. The consumption of this bacterium contributes three times the stunting case in Indonesia compared to nearby countries such as Thailand and Malaysia.
Austin has built a device called a Hydrodoser, which is an inexpensive system that can add chlorine to the water to kill harmful bacteria, modeled after a plan devised by a research team at Cornell University. Austin built his own prototype and presented his system to Habitat. Since this system is clearly in line with Habitat for Humanity's WASH (Water, Sanitation, and Hygiene) intervention program, we are happy to support the installation of this system in partner communities.
After installing the Hydrodoser in two villages in Karawang, Austin reported that he faced additional difficulties convincing local residents to use the device. Although chlorination is the safest and most effective method of disinfecting water, most people believe that chlorination will be detrimental to their health if consumed. For this reason, Austin decided to use the Hydrogen Sulfide Test kit to demonstrate the greater purity of chlorinated water. The test equipment is designed in such a way that when the paper cut dipped in a beaker containing bacteria, a chemical reaction will turn the water black. After showing locals that river water turned black while chlorinated water remained clear, Austin obtained their approval to use chlorinated water.
Using other method for increasing the use of chlorinated water in the community, Austin began a pilot experiment with Professor Robert Mendelsohn of Yale University and Dr. Agha Ali Akram on the effectiveness of using a medical diary, in which participants track the frequency with which they experience diarrhea when using chlorinated or non-chlorinated water.
This project truly reflects our commitment to solutions that combine the "hardware" components such as the Hydrodoser and the "software" components of community-focused education. The two components working together make this initiative a truly effective and sustainable program. Reflecting on project achievements in Karawang, Austin, and Noah reflects that despite the many challenges, from finding specialized equipment to overcoming communication gaps, the success of this project was due to the team's determination and creativity. Austin and Noah are excited to continue collaborating with Habitat for Humanity, working to provide clean water for all, one Hydrodoser at a time. When young adults take the initiative to influence their communities together, Austin and Noah prove that age doesn't limit young people's potential to develop a healthier world.
Anatman Pictures : Documentary Movie for Menstrual Hygiene
Volunteer support is not limited to build activities and support for disaster response. Two young filmmakers, took their time to make a documentary video that can provide education related to the reproduction of young women and also the importance of clean and healthy sanitation in the WASH (Water, Sanitation and Hygiene) program. By involving the families of the beneficiaries of the Habitat for Humanity program in the Sentul Cluster as the subject, the documentary video entitled Datang Bulan has successfully participated in several national and international film festivals.
Youth Social Entrepreneurship
The younger generation has a myriad of potentials, insights, and a very broad network. This is also supported by technological advances and the power of social media. One of the positive impacts of social media is the wide market that can be reached by the younger generation when they want to do good things. This can be seen from a large number of groups of young people, both working in groups or institutions, conducting various creative fundraising projects to support Habitat for Humanity Indonesia in carrying out its mission in Indonesia.
The experiences, values, and challenges that they get when running projects also have a good impact on them. Habitat for Humanity Indonesia provides space and mentoring for the younger generation in carrying out their projects.
In addition to supporting the program/curriculum in schools, this program also teaches young people to carry out entrepreneurial activities according to their own potential or ideas so that they have experience as conception and actors of this project.
The positive impact result has also made many parents decided to support the younger generation in carrying out joint projects with Habitat. After all, they are also involved in determining the use of these funds.
Spring Field Class Royale and Charity Concert
In light of the recent eruption of Semeru, the Springfield Student Council decided to organize two charity events, Royale Class and Charity Concert, to raise funds in collaboration with Habitat for Humanity.
On January 14 and 15, Class Royale brought together 87 students from various schools – even from Taiwan and Malaysia – to compete in the Valiant, PUBG, and Mobile Legends Esports Tournaments organized by the SF Student Council. There is no entry fee for this event, however, with a total of over 2600 views, Class Royale was a huge success, collecting over Rp. 6,000,000 with sponsors and donations only!
The following week, a Charity Concert was held. After weeks of incessant preparation and rehearsal, the show was also a sensational hit. The tickets sold out – a total of 190 tickets and 814 spectators online – the Charity Concert raised Rp. 16,500,000 from ticket sales, donations, and sponsorships. Those who buy tickets early pay Rp. 25,000 each, while those who bought it after the early bird period paid Rp. 50,000. With 16 spectacular performances from 29 students and teachers, the show was an unforgettable night.
With a total of Rp. 22,756,096.00 raised from both events, the Springfield Student Council would like to thank every crew, audience, and sponsor who has made this event possible. In total, 161 people are the backbone of this charity event! We hope that with the funds collected, the people affected by the Semeru disaster can be helped because Habitat for Humanity continues to help the community by buying clean water, proper sanitation packages, and rebuilding people's houses.
WARDAYA
In addition to build activities, volunteers also participate in supporting the Habitat for Humanity Indonesia program through programs designed by volunteers and carry out online. More than 130 young volunteers from Wardaya College participated in the Temporary Shelter for Medical Workers program, Tropical Cyclone Seroja Disaster Response in East Nusa Tenggara, and also the Mount Semeru lava fall disaster in Lumajang Regency, East Java, collected more than Rp. 100,000,000, -.
BPK Penabur (SMAK ONE CUP)
SMAK ONE CUP is a competition between schools from all over Indonesia and this year BPK Penabur Jakarta was chosen to organize it with the theme "Chronicles". This competition provides opportunities for the younger generation to organize and show their talents through sports and arts involving hundreds of performers and thousands of participants. And to enliven this activity, the highlight of the event included Smukiez Theater Night (Theatrical Performance) and Soundscape (Music Concert) which showed that their talents can be used to help people in need. Their happiness is over flowing when they performed, moreover if they can inspire other young generation to create and do the same, subsequently, supporting Habitat for Humanity Indonesia program in responding to the Covid-19 Pandemic. From this event, Rp 26,000,000 was collected and donated to Habitat for Humanity Indonesia for the Covid-19 pandemic response program.